8 women who changed digital history
21 March 2023
---
Often underestimated or forgotten, women have to face gender stereotypes to impose themselves in computing and innovation fields. On the occasion of International Women's Day, the CNIL invites you to discover 8 great minds that have shaped the history of digital technology.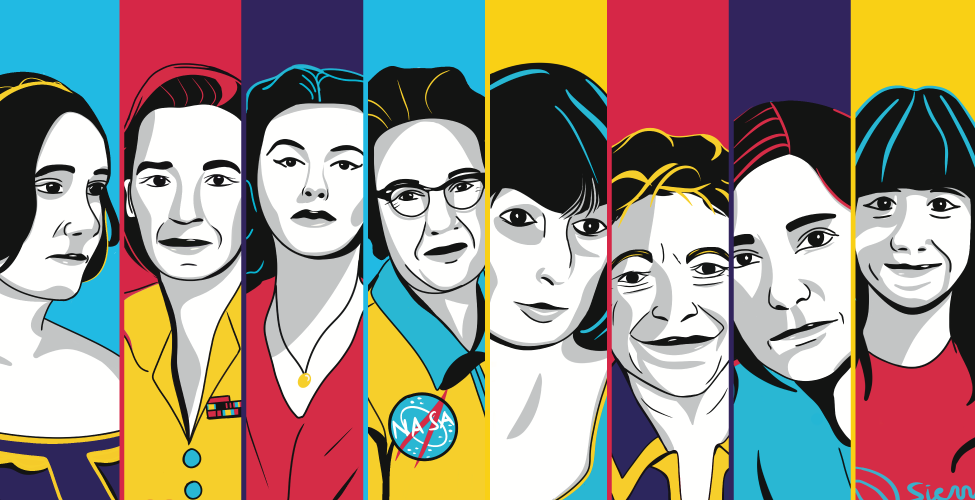 Digital technology is omnipresent in all aspects of our lives. Despite this, too few women opt for careers in this sector: only 30% of employed women in this field compared to 46.8% in other sectors (source: SCORAN). The difference is even greater for the most technical profiles. Under-represented, women may have difficulty making a place for themselves or being able to undertake a business in a very male-dominated environment.
Grace Hopper, Hedy Lamarr, Roberta Williams... do not these names mean anything to you? Yet, without them, there would be no Wi-Fi, no computer program, and certainly no "man" on the moon. But who are these talented women inventors and how did they contribute to our modern technologies?
Ada Lovelace (1815 – 1852)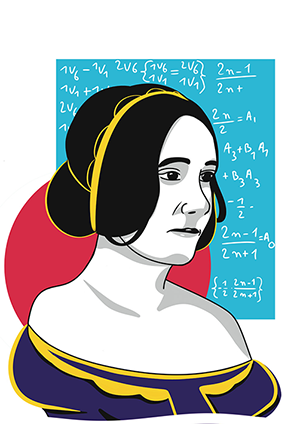 Daughter of the British poet Lord Byron and Anabella Milbanke, a mathematics enthusiast, Ada Lovelace showed at an early age the same passion as her mother. At the age of 16, she met Mary Somerville, an eminent 19th century astronomer, who encouraged her and helped her to progress in mathematics. A year later, Ada Lovelace met the mathematician Charles Babbage, inventor of the mechanical calculator. Together during 20 years, they will constantly improve the "analytical machine", the ancestor of the modern computer, 100 years ahead of time.
In 1842, Luigi Menabrea, an Italian mathematician, published an article in French, entitled "Notions on the analytical machine of Mr. Charles Babbage" (" Notions sur la machine analytique de M. Charles Babbage") which described the theoretical and practical aspects of the machine. Ada Lovelace translated it in English and, in her added notes, she theorized what would allow a machine to act on its own. She described the series of instructions that must be given to the machine to carry out a mathematical sequence. According to her, the machine could manipulate numbers but also letters and symbols, beyond numerical calculation. She conceived the notion of a universal programmable machine, able to perform an unlimited series of interchangeable tasks. Her "notes", one of which presented itself as the first algorithm in the history of computing that could be executed by a machine, became more famous than Menabrea's paper.
It was not until 1930 that Alan Turing formalized a universal calculator manipulating symbols. Long forgotten, Ada Lovelace has only gradually been recognized by History. In 1979, the American Department of Defense named after her a programming language "Ada", and the CNRS (the French National Centre for Scientific Research) named one of its supercomputers in her honor.
---
Grace Hopper (1906 – 1992)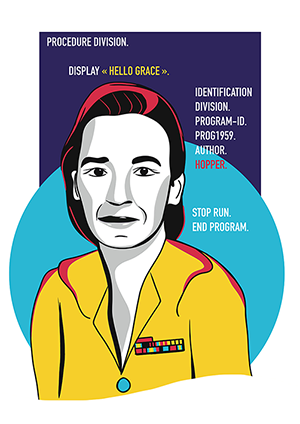 Grace Hopper, whose maiden name was Grace Brewster Murray, attended Yale University, where she earned her master's degree (1930) and then her doctorate (1934), before teaching mathematics at Vassar College in New York. 
In 1943, she joined the US Navy as a reservist. She quickly became a lieutenant in an all-female WAVES unit of the U.S. Army whose main mission was to study ballistic trajectories. Assigned to Harvard to program the Mark 1 computer, the first large-scale automatic calculator, she continued her research for civilian industry while maintaining her status as a reservist. In 1949, Grace Hopper joined the Eckert-Mauchly Computer Corporation and the team working on the Univac (Universal Automatic Computer), a computer released in 1951.
Among Grace Hopper's many contributions to computer science are the invention of the Cobol language (common business-oriented language) in 1959, the concept of reuse, the notion of subroutines and bugs, and the use of the term "coding" to describe the process of writing instructions.
The mathematician retired from the military in 1966 but was recalled to active duty by the army the following year to participate in the standardization of computer languages for the US Navy.  At the age of 79, she was the oldest active US Navy officer when she retired to civilian life in 1986. She was awarded the National Medal of Technology in 1991, shortly before her death.
---
Hedy Lamarr (1914 – 2000)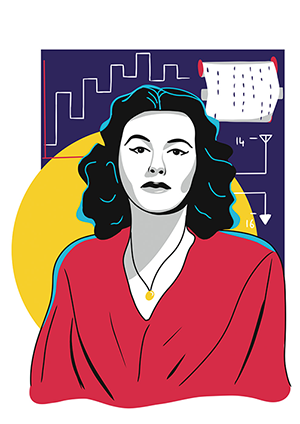 Austrian actress, film producer and inventor, Hedy Lamarr became a Hollywood star upon her arrival in the United States in 1937.
She left her mark on the scientific history of telecommunications by inventing in 1941, with the composer George Antheil, the "Lamarr technique", a system designed to protect communications between ships and their torpedoes. Controled by radio, they were often intercepted by the enemy during submarine attacks. Inspired by the perforated paper strips used in mechanical pianos, Hedy Lamarr and Georges Antheil developed the first frequency-hopping spread spectrum. This technique distributes the transmission of signals over several channels in a random manner and thus guarantees their undetectability.
They filed a patent in 1941 but it was not until 1962, with the Cuban crisis, that the American army saw a use for it. Their transmission principle was then studied and improved. Their invention became public domain and was the delight of transmission device designers in the 1980s. It is used today for satellites and mobile telephony, in wireless technologies such as GPS or Wi-Fi.
---
Katherine Johnson (1918 –2020)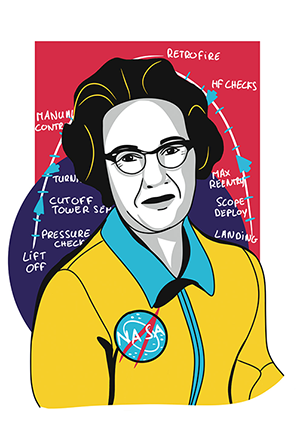 A mathematician and physicist, Katherine Johnson joined NASA in 1953 where she performed complex calculations for her superiors by hand. In 1960, she co-authored a report with Ted Skopinski in which they wrote the equations that describe the trajectory of an orbital space flight. This was the first time a woman was credited as the author of a research report.
In 1961, Katherine Johnson made trajectory calculations for the Freedom 7 mission and allowed the first American to travel in space, Alan Shepard. In 1962, for the first American mission to send a man into orbit around the Earth (Mercury-Atlas 6), she checked by hand the computerized trajectory calculations at the request of John Glenn, who knew her reputation.
In 1969, during the Apollo 11 mission, Katherine Johnson helped to specify the space meeting trajectories between the command module and the lunar module when the latter returned from the Moon's surface.
Born to African descent parents, Katherine Johnson has made a place for herself in a white male environment. Decorated numerous times, she was awarded the Presidential Medal of Freedom in 2015, America's highest civilian honor, and gave her name to the Katherine Johnson Computer Research Center inaugurated by NASA in 2016 (Langley, Virginia).
---
Alice Recoque (1929-2021)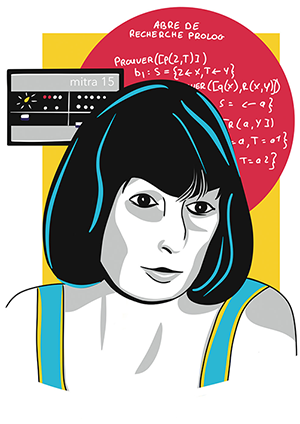 Graduated from the Ecole Supérieure de Physique et de Chimie Industrielle de Paris (ESPCI), Alice Recoque participated in the development of the CAB 500 desktop computer (automatic binary calculator), a magnetic drum-based solid-state machine that is more intuitive to use thanks to its keyboard. In 1970, she also participated in the creation, as project manager, of the MITRA 15 mini-computer for industrial management. The latter will be used for the French Internet project "Cyclades", the control of robots and security systems in nuclear power plants as well as in the use of missiles and ships..
In 1978, Alice Recoque took part in the meeting that founded the French Data Protection authority ("Commission nationale de l'informatique et des libertés"). She expressed her concerns and the need to put in place a safeguard against "the increased surveillance power of companies and states".
In 1985, within the Bull Group, she initiated and led research on artificial intelligence. During this research, conducted with public research organisations such as Inria, she contributed to the development of a programming language called Prolog, used today in artificial intelligence, particularly in natural language processing.
---
Stephanie Shirley (1933 - )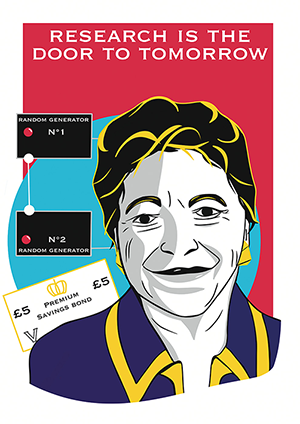 At the age of five, Vera Buchthal and her family fled to England from Nazi Germany. She changed her name to Stephanie Brook when she became a British citizen at the age of 18, but it was with the name 'Steve' that she would go down in computer history.
She began her career at Dollis Hill Post Office, where she became interested in computers and obtained her degree in mathematics by attending night school.
In 1962, she created the company Freelance Programmers, which aimed to design computer software. She worked from home and as the company grew, she decided to recruit a team of mainly women. She favoured a human resources policy that facilitated the family life of her female employees, notably by introducing flexible working hours and teleworking. From 1975, the Sex Discrimination Act made it illegal to hire on the basis of gender: she was therefore forced to hire men.
It is a success: in total, 8,500 people will be employed by this company, which is responsible for programming the Concorde black boxes and contributing to the development of software standards and major control protocols.
In the 1970s, Stephanie Shirley transferred the management of her company and sold it in 1991 upon her retirement. In 1996, the group was listed on the stock exchange and was later valued at 3 billion dollars. Stephanie Shirley was named to the Science Council's list of the UK's 'Top 100 Practising Scientists' in January 2014.
---
Margaret Hamilton (1936 - )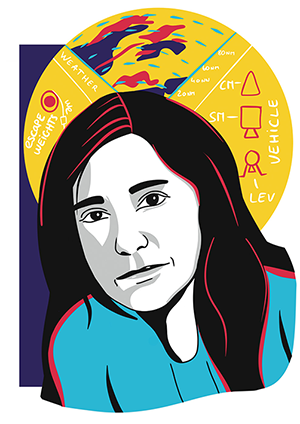 A mathematician with a passion for computers, Margaret Hamilton joined the Massachusetts Institute of Technology (MIT) in 1960 to develop computer programs for weather forecasting, before becoming director of the software engineering department where she developed aircraft detection programs.
In 1963, she became head of the team developing the on-board software used by the Apollo and then Skylab missions at NASA. This gave her solid experience of software design at a time when computer project management and design methods were in their early days.
The programs developed under her supervision played a crucial role during the Apollo 11 mission, preventing the landing of the lunar module from being aborted .Three minutes before it reached the Moon's surface, repeated computer alarms were triggered, signaling a saturation of the onboard computer. Thanks to the architecture of the operating system, which prioritised programs, the computer was nevertheless able to carry out its main mission of landing the module on the Moon.
Further developments in computing were made possible by Margaret Hamilton, whose invention, together with her colleagues at MIT, of the basic concepts of computer programming and code led to the creation of the world's first laptop computer. In 1986, she also conceived a new programming language, USL (Universal Systems Language), designed for complex software and systems.
---
Roberta Williams (1953 - )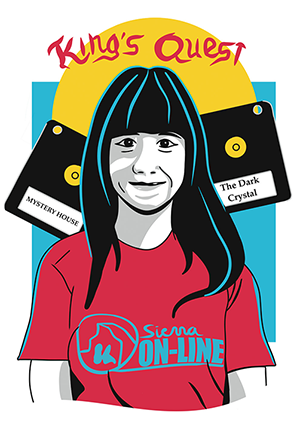 While American Roberta Williams was pregnant with her first child, her husband introduced her to the game Colossal Cave Adventure, designed as a treasure hunt. She enjoyed the game but soon grew tired of it. Indeed, computer adventure games were originally purely text-based: a paragraph described the character's location and instructions had to be written on the keyboard to progress through the riddle. Aware that this system was off-putting to the uninitiated, Roberta Williams decided to change it. She is known as the pioneer of interactive storytelling, thanks to the idea of game experiences revolutionised by a graphic universe that makes the riddles and plots more attractive.
In 1980, she designed the game Mystery House, adding graphic illustrations for the first time. The player is locked in a house with several rooms and seven characters who start dying one by one, in the manner of an Agatha Christie novel or the board game Cluedo. The player has to quickly find the murderer by means of clues, if he does not want to be the next victim.
A new step was taken in 1984 when she designed King's Quest I which, thanks to the improved capabilities of computers, allowed the player to see his character move around in a virtual universe.
In 1995, graphic immersion took a new turn with the horrific adventure game Phantasmagoria, where the characters were made from real actors filmed on a blue background and then mixed with 3D scenery.
---
63% of CNIL staff members are women.
Engineers or lawyers, managers or agents, they bring their expertise to protect the privacy and freedoms of the French people.
Photo credits of the visuals that enabled the CNIL to produce these portraits: Ada Lovelace: Antoine Claudet; Hedy Lamarr: Wikimedia Commons/Doctormacro; Grace Hopper: Wikimedia Commons; Katherine Johnson: NASA; Stephanie Shirley: Lynn Hart/CC; Margaret Hamilton: Daphne Weld Nichols/CC; Alice Recoque: Magazine 0.1 Informatique; Roberta Williams: Sierra On Line